Beer Mile World Classic
Once a year, the most elite beer milers across the world gather to compete in the world's premier drinking event. Celebrating its 9th year as the official beer mile world championship, 2023 is set to break records - both in competition and viewership.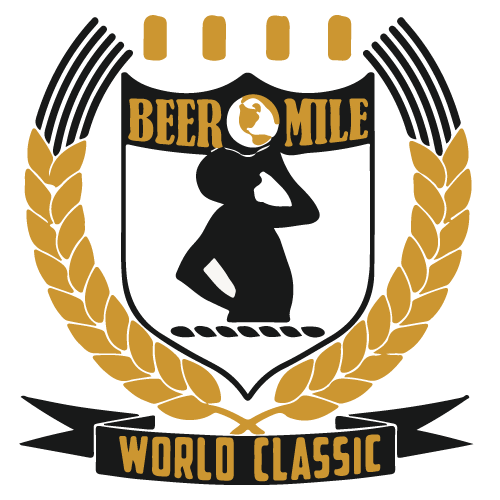 Overview
Beer Mile World Classic
The 2023 edition of our championship series will take place on July 1st in Chicago, Illinois. Subscribe to our email list to keep up with announcements as we get closer to the event. A link to registration will be posted here once all event details are finalized.
The Beer Mile World Classic's long-awaited return to the United States is upon us. With more than $10,000 of prize money, this year's competition is sure to be deeper than ever. Thanks to our local partners, we are proud to share that the competition will be held on a state-of-the-art Mondo track at Hope Academy. We are currently finalizing plans to bring you the best World Classic to date, including:
Beer vendors on-site for athletes and spectators alike.
Open entry community beer mile heats and the US Open national club beer mile championship.
Food & N/A beverage offerings.
A kickass after-party you won't want to miss.
Sponsors
If you or someone you know is interested in playing a part in an event watched by millions of athletes and beer enthusiasts worldwide, please contact [email protected]. We are actively vetting inquiries for:
Presenting sponsor
Beer vendors
Food trucks
Livestream advertisers
Frequently asked questions
Can't find the answer you're looking for? Reach out to our email and we'll be in touch.
How do I qualify for the beer mile world championship?

The proof is in the pudding. Take a video of yourself completing a fast beer and share it with us via email. The top 5 beer milers from each country will be able to compete in the championship race.

If I don't qualify for the championship race, can I still participate?

Yes! We will have open beer mile heats on July 1 at the World Classic in the afternoon leading up to the championship races. The event will also serve as the US Open National Championship with prize money awarded to the fastest Americans individually and the fastest running club teams.

US Open National Championship? Tell me more.

The official US Open Championship will also take place on July 1, 2023 in Chicago in conjunction with the World Classic to crown individual and club national champions. So get your top beer milers together from your club and come out to compete for more than $10,000 in prize money.

How do I register to compete or spectate the World Classic?

A link to registration will be available soon.

If I am coming to the World Classic just to spectate, do I need to register?

Yes, spectators must have purchased a ticket in order to get into the event. Capacity is limited, so get your tickets before they sell out!

Where is the beer mile world championship held each year?

The Beer Mile World Classic moves to a new location each year to spread beer mile love throughout the world. It has taken place in San Francisco, London (twice), Vancouver, Berlin, Manchester, Leuven, and now Chicago in 2023.